Name:
Balso Jiguro
Age:
12
Gender:
Male
Clan:
Jiguro Clan
Appearance: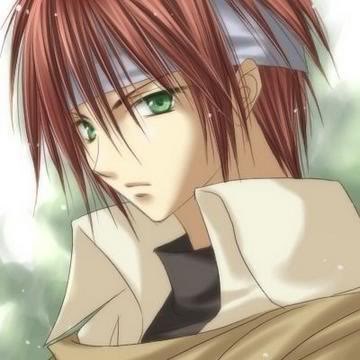 Personality:
Balso is very quiet, he doesn't enjoy parties or large groups of people. He'd rather be alone then with most people. He is very humble he never boasts or considers himself above anyone else. He has a tough side though as he hates showing his pains and anger.
He hides all of those with a smile, a smile always on his face. Although he is shy he makes friends easily, he tries hard at everything he does and often succeeds. He likes to train with his older brother Erik, as he surpasses him in Taijustu but in brains Erik has Balso beat. He uses a spear given to him from his grandfather.
History:
Balso was born into a family of 4 children two of which are already adults and serving as ninja. Balso didn't know them very well, as soon after they became Jonin they were killed in battle. He now lives with his parents and Brother Erik. Balso grew up in a home where his parents gave almost no mention to him. Balso spent most of his time training and progressing in school. He was a good student and had few close friends. He became a genin and is now training to become a chunin.
Village:
Getsugakure
Rank:
Genin
element:
Wind, Lightning
Nindo:
Never give up anything worth starting.
Equipment:
Spear, kunai knives, shuriken, silver robe with a moon on the side
Jutsu:
Peregrine Falcon Drop, Leaf Whirlwind, Leaf Violent Wind, Clone Technique, Body Replacement Technique, Transformation Technique
RP sample:
Shamus has always waited for this chance, a chance to visit his home Ireland. Shamus woke up at 7:30 A.M. and drove to the Airport he parked in the B Lot. Before opening the car door on his White 2002 Honda Civic he took a deep breath, his chest moved in sync with his breath. He opened the door and walked towards the B Entrance. Something around made the hairs on the back of his neck stand up "I'll ignore it 'til it comes my way" mumbled Shamus scoping out the area for anything unusual. He entered the Airport and walked into line, behind a large husky man with a chubby face, and large black rimmed glasses. As the line shortened Shamus noticed that the metal detector seemed to be defective, because the man who just walked through was wearing a metal belt buckle. Shamus ignored it for now, It was his turn to be frisked and x-rayed it seemed very standard and Shamus checked out clean and so did his luggage. Shamus went and got his ticket from one of the women in the Airport and she gave him a look that Shamus wasn't new to. He returned the look with a stern face that gave the message "Not right now".
Shamus' flight was called and he walked into the plane it may have been obvious to Shamus but the flight Marshall was sitting in the back of coach in the far right section. No one else seemed to notice but Shamus didn't seem to care he found his seat 24B. Surprisingly the man who was supposed to sit next to him hadn't arrived so Shamus stretched out. The plane was preparing for launch and "We are taking off please fasten your seatbelts" came from the intercom. Shamus fastened his seatbelt and laid back. Once the plane was in the air Shamus dozed off and fell asleep. Shamus woke up to the noise of the plane descending. As the plane landed many people in the plane mumbled "Finally" or "Been long enough". Shamus unloaded his bag from the rack above his seat and walked off the plane with the crowd. "Feels good to be home" said Shamus in a relieved voice.
(This was on another site, my character's name was shamus)
How did you find us?:
A Bleach RP site, Bleach Unify